Realme provided personalized Buds Air 3 earlier this year with a person's name on the case. It guarantees to provide a quality listening experience at a reasonable cost. But does it merit thought? Or did the company lower the price by compromising on the quality? Let's investigate.
Introduction
The Realme Buds Air 2 from last year won us over with their excellent sound quality, active noise cancellation, and reasonable price. Realme spent some time perfecting their product, which led to the creation of the Buds Air 3.
So, compared to last year's model, are the Buds Air 3 a better purchase, and how do they compare to alternatives at the same price point? Let's investigate.
Design
The Buds Air 3 have a similar design to their predecessor, however certain changes have been made. The most visible one is the Buds Air 3's shorter stems, which contribute to their reduced weight and excellent fit in my ears. They include adjustable silicone tips and provide the same in-ear fit as the majority of competitors.
The Realme logo now rests behind a clear plastic window at the top of the lid instead of in the centre of the casing, giving it a distinctive appearance. Despite the fact that Realme also offers the more traditional Galaxy White colorway, we have the Starry Blue colorway for this review. The buds have an all-plastic construction with matte-finished stems and cases and glossy bits on the in-ear portion. They are also simple to grip and manage to keep fingerprints off fairly nicely.
The lid is composed of solid material and closes with a sturdy snap; there are no cracks or squeaks in this case, which is held upright by magnets. The case does not have the same IPX5 water resistance rating as the earbuds.
Features
For the amount they are being asked, Realme Buds Air 3 provide a wide range of features. A low latency gaming mode, multi-point pairing, wireless charging, adjustable ANC, and programmable sound profiles are all included. They support the SBC and AAC audio codecs and pair through Bluetooth 5.2. Certain phones come with the additional benefit of Dolby Atmos, which includes profiles for viewing movies, listening to music, and playing games, as well as a smart mode that chooses the best settings based on your surroundings.
Dual microphones on each earbud are supposed to help block out 42dB of ambient noise. Here, ANC performs admirably and can undoubtedly cancel out some lower frequency static noises. Also, it performs well in windy settings, which was not true of rival products like Xiaomi's Buds 3T Pro. You can choose to wear the earbuds as normal or switch to transparency mode, which lets in more noise so you are more aware of your surroundings.
The multipoint pairing feature of the Buds Air 3 allows for pairing with up to two devices, and on my end, a strong connection between my phone and laptop was achieved. Notwithstanding sporadic latency concerns, the earbuds did a fantastic job switching between both audio sources. Also, you get in-ear detection, which pauses media the moment the earbuds are removed.
The most of the time, touch controls operate effectively, however on a few occasions, there were delays between touch registration and execution. I too experienced a good number of unregistered tapping. In Reame's Link app, you may set the double, triple, and tap and hold configurations for either earbud. It's great that the software runs on both Android and iOS smartphones.
You get a ton of extra features with Realme Link, like battery indications for the headphones' buds and the case, toggles for the noise-cancelling settings, individualized sound profiles based on your hearing needs, a volume booster, and a game mode with allegedly low latency of just 88ms.
Sound quality and fit
How loud are the Buds Air 3? Its 10mm dynamic drivers produce powerful, snappy sounds with a considerable amount of bass that isn't at all overbearing. The default sound profile on the Buds Air 3 may best be described as balanced, and they are undoubtedly some of the better sounding earbuds I've recently tried. I liked how the earbuds' crisp highs and mids and just-right amount of bass came through without overpowering the other audio elements.
I used the Buds Air 3 to listen to a variety of musical genres, watch some YouTube videos, catch a couple basketball games, and access a number of podcasts. They did an excellent job in every situation, providing a strong connection and reliable audio. As with any in-ear earbuds, noise cancellation partially worked and was able to reduce some static noise, but the fit of the buds is what really helps them form a tight seal in my ears.
Three sound modes are available for the Buds Air 3: Loud, Bass Boost+, and Balanced. The latter is the default. The Bass Boost+ option does exaggerate the bass in favor of a more well-rounded sound profile, but I personally think Bright mode sounds the best.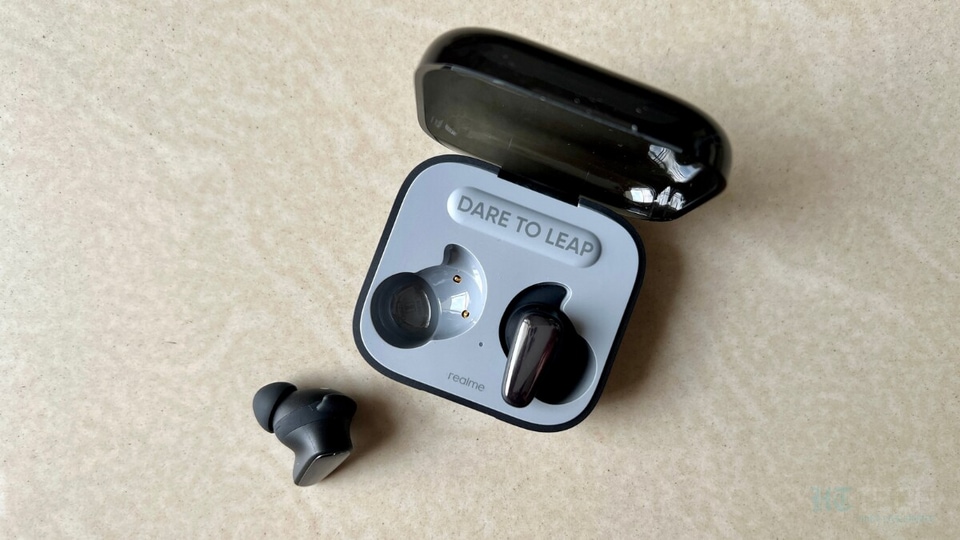 A bespoke audio tuning function that adjusts sound output based on your hearing is also available from Realme. It operates by playing a variety of noises at various frequencies on the left and right earbuds and asking you to rate how well you can hear them. This ought to result in a unique sound profile for every user. Sincerity be told, I didn't notice much of a difference in the sound between before and after the sound tuning.
Battery life
Realme Buds Air 3 and their case have a total battery life of 30 hours when ANC is turned off, and 22 hours when ANC is on. On the buds with noise cancellation turned on, Realme predicts 5.5 hours of use. Each bud contains a 43 mAh battery, and the casing has a 460 mAh capacity.
In testing the Buds Air 3, I discovered that Realme's predictions were accurate. I can now confirm that the battery life is excellent and will easily last you a month with moderate usage. Even if the battery runs out, a 10-minute charge will give you 100 minutes of enjoyment in no time, whereas a complete charge takes 100 minutes. The speedier USB-C port can be used to charge the case, or you can go wirelessly with a Qi charger or compatible phone.
Verdict
Go no farther than the Realme Buds Air 3 if you want superior sound quality, effective noise cancellation, a wide range of features, and a helpful companion app that is compatible with both Android and iOS. These svelte, light-weight earbuds give sound and features that outperform their price while maintaining a sturdy construction, stylish design, and a long battery life.
By providing greater ANC, an even lighter and more compact design, and the same balanced sound profile, Realme was able to improve upon the already strong Buds Air 2. A feature-rich companion app for Realme, Realme Link runs on both iOS and Android. The unavailability of a higher bitrate codec like aptX is the sole complaint with the Buds Air 3's above-average call quality.